Competition Information and Entry Forms
Online and Mail Competition Entry Deadline October 31, 2023
The North Carolina Gourd Society is the alpha chapter of the American Gourd Society (AGS). Our annual competition is judged by AGS certified judges.
Festival Theme: "AROUND the WORLD with GOURDS"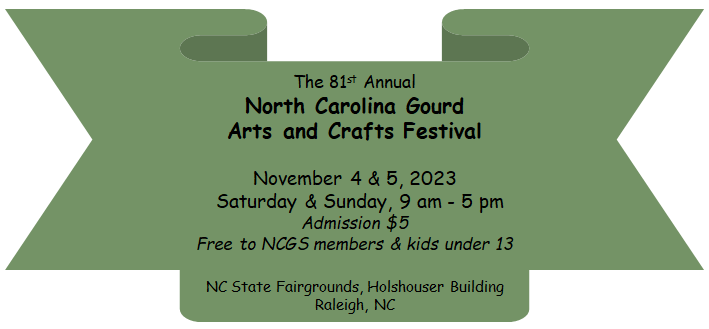 Steps for entering the competition
Consider joining NCGS for $15 here; otherwise, a $20 fee is charged per person for nonmembers in Divisions I (Grower), IV (Intermediate), and V (Advanced). To verify membership, please contact our Membership Chair at

[email protected]

Read or download the competition information packet here
Choose which Divisions (I, II, III, IV, V, or VI) you will be entering. Read the descriptions carefully to ensure you pick the correct divisions. Only one entry form is necessary for each division you enter.
Select the competition categories in your chosen divisions. Each division has one or more categories and you may enter all of them! Only one entry per person per category is allowed.
Select your entry method. There are four ways to enter. Online, email or mailed entry forms are recommended to avoid delays when dropping off entries at the festival and to allow sufficient time for the staging of the competition and the creation of entry tags.


Online – Click on competition entry form in the table below for the division and submit an online competition entry form (listed by division) by October 31, 2023. You will receive a confirmation email within 48 hours. If you do not receive a confirmation, email

[email protected]

Email the printable entry form in the table below for the division to the email on the form by October 31, 2023.
U.S. mail – Print the entry form in the table below for the division, fill out the form, and mail it to Stan Atwood, 1002 Black Oak Court, Apex, NC 27502. Mailed entry forms must be RECEIVED by October 31, 2023.

Walk-in – Print the entry form in the table below for your division, fill it out and bring it to the festival. Entries with completed forms will be accepted at the festival during competition entry drop-off times as listed below.

Drop off your gourd entries at the festival during drop-off times.

Drop off times are Friday, November 3, from 5 pm – 7 pm and Saturday, November 4, from 7:30 am – 9 am.
Remove or cover any names or other identifying personal information on the item. Initials are acceptable.
Have each of your entries photographed by our photographer before attaching the competition tag.
For each item, the festival will provide an entry tag which must be attached. After judging, the exhibitor's name will be uncovered on the entry tag. A standard business card may be placed on competitive exhibits after judging.

Be sure that your gourds are checked in, photographed, tagged, and on display before 9 am on Saturday.

Thanks for entering the competition and enjoy the festival!!


(919) 215-3399, [email protected]
Table of links to online and printable forms