Basic Types of Gourds
Hardshells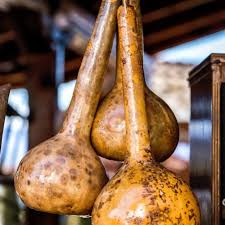 Hardshells are gourds of the beginning of history, used as containers, tools and musical instruments from the dawn of history right up through today. They are hard, durable shells gave them many uses. They were the homegrown household china, crystal and Tupperware of our cave-dwelling ancestors. Click here for additional information.
Ornamentals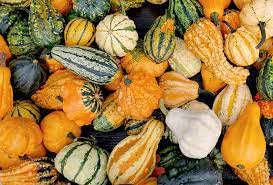 Ornamentals have thinner shells and may be eaten. They are the small, brightly colored gourds that appear on roadside stands and on market produce counters in the fall. Click here for additional information.
Luffa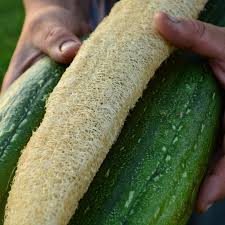 Luffa, (sponge gourd), is our bathtub friend. People think these are sponges from the sea, but these vegetable sponges grow on yellow flowered vines, much like cucumbers. Click here for more information.
Gourds in General
Gourds grow around the world–very much like squashes and pumpkins. Growing gourds is easy. What puzzles most new growers is how to dry, or cure, their crops. Gourds have been crafted many ways to make useful and ornamental items. You can see gourds made into everything from musical instruments to flowerpots. These are on display at the annual North Carolina Gourd Arts & Crafts Festival in Raleigh, NC, held each November. The Festival features many excellent gourd crafting workshops for everyone from beginner gourd enthusiasts all the way through experienced gourd crafters and artisans. Click below for additional information.

Copyright Mary Ann Rood, April 7, 1998